Main content starts here, tab to start navigating
Red Hook
Our Flagship location sits in the neighborhood for which our restaurant was named. Much like the seaside towns of New England from where we get our seafood, Red Hook is a neighborhood that's unlike any other in our city or even our state. And the best way to get to us is by boat! Join us for lunch, dinner, or a picnic to enjoy by the harbor.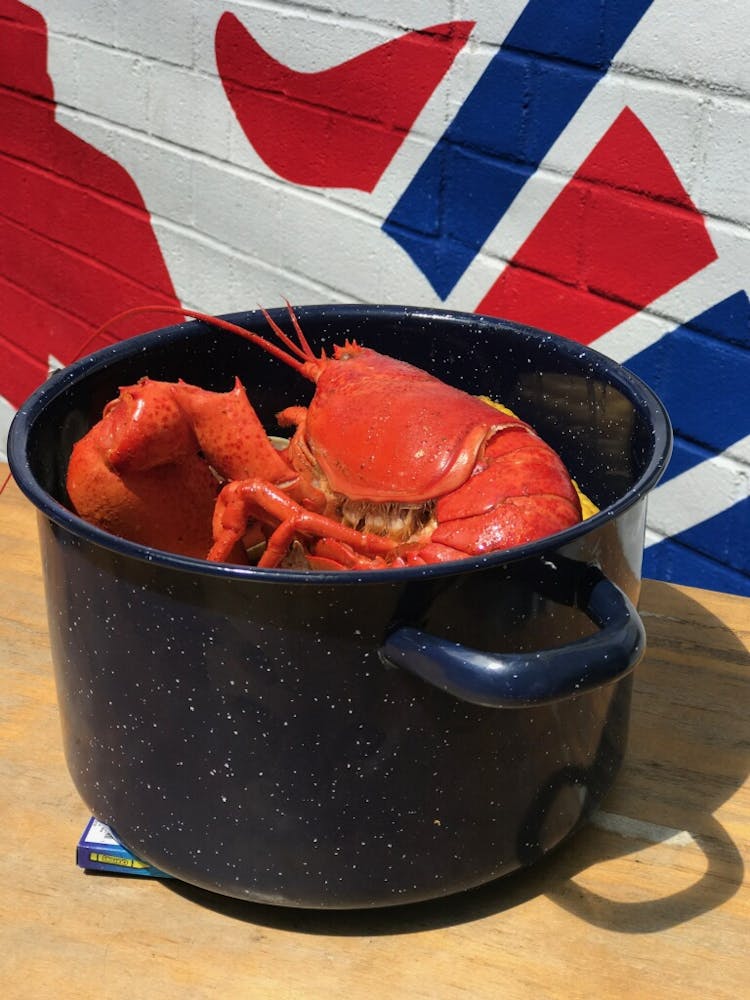 Menus
Shareables
Peel and Eat Shrimp

Tossed in Old Bay

$16

Lobster Cheese Fries

Topped with our five-cheese sauce, Maine lobster

$18

Hot Crab Dip

Lump crab meat with our homemade Old Bay potato chips

$17

Fried Calamari

Locally caught off Rhode Island, with lemon aioli, pepper relish

$15

Fried Pickles

Beer battered, chipotle mayo

$9

Crispy Brussels Sprouts

With lobster caramel sauce

$11

Lobster Mac and Cheese

Maine lobster and organic pasta in our five-cheese sauce

Small $18

Large $26
Chowdah
New England

Creamy old-fashioned clam chowder

Cup $6

Bowl $8

Down East

Clams, haddock, shrimp, lobster, mussels in a creamy tomato broth

Cup $6

Bowl $8
Salads
Cobbster Salad

Maine lobster, bacon, blue cheese, tomatoes, egg, crispy onions, avocado with blue cheese dressing

$26

Lobster Caesar Salad

Classic Caesar with little gem lettuce

$26

Substitute for any salad

Chicken $16

Shrimp $18

Salmon $21
Sides
Mac & Cheese

Small $8

Large $12

Cheese Fries

$8

Fries

$6

Potato Salad

$3

Green Salad

$5

Caesar Salad

$6

Slaw

$3

Corn

$3
Kids
Ages 12 and Under
Chicken Tenders and Fries

House-made tenders

$12

Kids Hamburger and Fries

Plain $12

With Cheese $13

Grilled Cheese and Fries

Simple and delicious. American cheese melted on our New England Style Rolls

$9

Mac and Cheese

Organic pasta with our five-cheese sauce

$9

Hot Dog and Fries

Berkshire pork hot dog

$9

Buttered Noodles

The classic for a picky eater (or a simple comfort dish) using organic pasta

$7
Lobstersize It!
Add 2 oz lobster to any dish for $10.00
New England Style Boils
All served with corn & potatoes
The Poundster

1 lb snow crab legs, 1 lobster, andouille sausage, rock crab claws, clams, mussels, shrimp, tossed in garlic seasoned butter

$85

The Lobster Dinner

Swimming-In-The-Tank-Fresh Maine lobster (1.5lbs) served with slaw and butter

MP

Crab Dinner

1 lb crab of your choice

Snow $45

King $60

Dungeness $40

Portlander

1 lb shrimp, 1 dozen clams, tossed in garlic parsley butter

$38

New England Seafood Boil

Fresh clams, mussels, shrimp, sausage, tossed in old bay garlic butter

$25

Add to any boil

1.5 lb lobster $25

1 lb shrimp $20

1 lb mussels $14

1 lb king crab $55

1 lb snow crab $40

1 lb dungeness $35

1 dozen clams $13

Andouille sausage (pork or chicken) $5
Lobster Rolls
All rolls served on an authentic New England, top split, buttered and toasted bun | Choice of fries, potato salad or green salad
The Classic

"Maine Style" lobster salad tossed with a touch of lemon mayo

$26

The Connecticut

Lobster poached in butter and lemon served warm

$26

The BLT

Lobster salad, chipotle mayo, and applewood smoked bacon

$28

Fried Lobster Roll

Fried lobster tossed in lobster caramel with kewpie mayo

$26

The Tuscan

Lobster tossed in basil vinaigrette

$26
From the Sea
Fish and Chips

Fresh, wild-caught Atlantic white fish, beer-battered

$18

Lobster Grilled Cheese

Lobster, bacon, tomato, and cheddar

$19

Crab Cake Sandwich

Jumbo lump crab, lettuce, tomato, tartar sauce

$23

Fishwich

Wild-caught Atlantic white fish, purple slaw, tartar sauce

$18
Land Ho
Choice of fries, potato salad or green salad
Hook Burger*

1/2 lb dry-aged prime blend, lettuce, tomato, cheese, special sauce

$19

Old Bay Fried Chicken Sandwich

Lettuce, tomato, local brine pickles, and lemon aioli

$17
Dessert
S'mores in a Glass

The campfire favorite turned into a single-serve mousse perfect for any time of year.

$9

Steve's Key Lime Pie

A neighborhood staple. Individual Pies

$8

Banana Pudding

Topped with Nilla Wafers

$8

Root Beer Float

For the kids--or just the kid in you! A classic using organic Maine Root Beer

$6
*Warning: Consuming raw or undercooked meats, poultry, seafood, shellfish, or eggs, may increase your risk of foodborne illness, especially if you have certain medical conditions